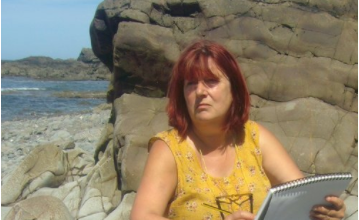 Nina Young is an artist with a deep respect and love for the natural world. Her intuitive connection to the land and the sea result in paintings that allude to the energy and hidden life of a place.
Nina Young was part of an artistic family and grew up in an environment where art was seen as a vital part of everyday life. Nina chose to follow a career in education, specialising in the visual arts. She taught in schools in London and Cornwall and has also worked for the Cornwall Education Advisory Service as an Advisory Teacher for Art and Design.
Separately, she has been an Artist in Residence with the National Trust; an Adult Education Tutor for Cornwall and Devon Adult Education Service, as well as tutoring in numerous private art agencies such as Outlook and the Indian King Arts Centre. Nina also provided 'In-Service Education Training' for teachers in many aspects of Art and Design for the Local Education Authorities in Devon and Cornwall.  In 2010 she was trained as an Artsmark Assessor by the Arts Council of England.
Throughout this time, Nina Young continued to work as an artist with her painting incorporating increased expressionistic elements and an overiding 'sense of place'. She also became interested in the decorative arts of jewellery and textiles and undertook additional training in these areas.  
Nina's work has been exhibited  extensively, and particularly in the Westcountry, with exhibitions in National Trust Galleries, Pencarrow House, The Indian King Arts Centre, Cry of the Gulls, Plough Arts Centre, Mid Cornwall Gallery and The Burton Museum and Art Gallery in Bideford. She has work in private collections in America and Europe.
In 2012, Nina decided to leave full time Education in order to concentrate on her own art work. She now lives in Dordogne with her husband, Neil, who is a sculptor.
"I have always enjoyed the physicality of painting, applying the paint with my fingers, hands, rags, sponges, sticks and card as well as with palette knives and brushes. Colour is of paramount importance to me. I build up layers of colour to create depth and texture and often scratch and scrape to reveal lower levels of the painting. Most of my work is made using more than one medium. I like the freedom of being able to choose the materials that I feel will best express the atmosphere I want to create, and that will make the most appropriate marks and textures.
I work on primed cotton or linen canvas, and good quality rag paper with a rough or extra rough surface texture. The weight and strength of these papers enables them to cope with various techniques and mediums and they have the added advantage of not needing to be stretched, which is  very useful if working outside. I paint both in the studio and en plein air, finding inspiration in the familiar and the close at hand. My studio is a light filled room in our Perigordian house, set in the beautiful countryside above the Bastide of Beaumont du Perigord, where I live with my husband who is also an artist."