Neil Young was born in Cornwall, England in 1954, the youngest son of the Leeds sculptress, Gwendoline Cheesborough. He studied Design at Art School where he was part of a close knit group of young artists which included Brian Clarke. He then studied Art and Design at Bedford College, before gaining a place at Pembroke College, Cambridge University to read Art History.
After leaving the East Midlands, he returned to Cornwall to pursue a career in teaching and Education Management. Education then dominated the mid part of his life and it is only in recent years that he has returned to concentrate on his own art work. 
After a number of exhibitions in the South West of England, Neil Young moved to the Perigord region of France, where he now lives with his wife who is also an artist. 
He regards his own artistic influences as being  Cezanne, Braques, Nash, Klee, Tanguy and Brancusi. However, these influences are rather ones of respect for the thought and intentions of the artist and little overt similarities of style exist in his own work.
"I don't have a preferred medium as an artist. In the past I have worked with steel, fibre glass and plaster, whereas more recently I had a period of time making 'boxed sculptures,' with driftwood as the principal material in each composition. 
It is somewhat unconventional to comment about yourself as an artist through the description of how you developed a mental image into a piece of art work. However, it could also be seen as a logical means of conveying the way a person thinks as an artist, and the means they adopt to achieve a desired end product.
What follows then is a description of the conceptualisation and realisation of my drawing of a wood on a hill.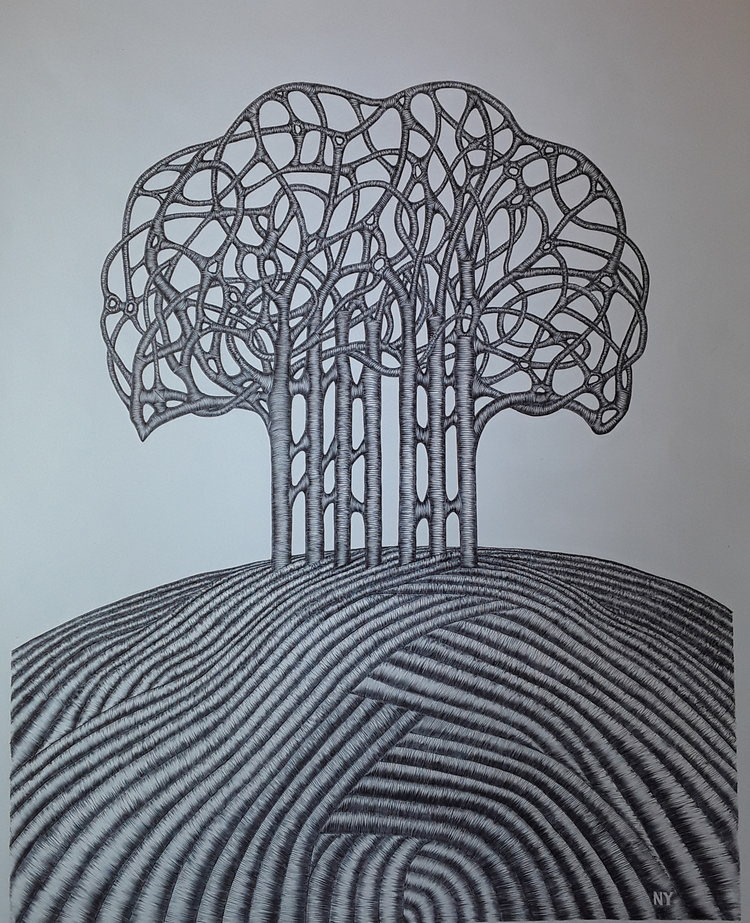 When I form a mental image of something I want to create, it is almost always 'three dimensional'. However, 'Parasol Pines', was an exception, and was only ever imaged by me as 'two dimensional'. 
I have always liked isolated hills which have a cluster of trees at their summit, rather than on their slopes. These groups of trees invariably appear to have a unity, in part, due to their isolated position and also due to the inter-relationship of their spreading branches.
I wanted to create an image of a wood on a hill that was very different from any depictions of trees on a hill that I had ever seen and could form a clear mental image of what I wanted to draw: trees with interlocking branches and trunks, in a single continuous and harmonious structure.
I drew a small practice section of the tree trunks to 'confirm' the mental image I had; then a second practice section for the interlocking branches. I do these 'practice sections' with any drawing, particularly for certain details that I intend to incorporate, to make sure that I will be able to achieve the required effect with the pen, and thus avoid unnecessary errors on the actual work itself.
Usually, the mental image that I generate of something is fairly complete, albeit, without fine details. If I have to deviate from my original image for practical or aesthetic reasons, I always have severe problems: it is as if I can't re-image what is already fixed in my mind. In this case, the mental image I had of the trees translated onto paper easily, and presented no problems that would require adjustments to the overall composition. However, I only had a clear mental image of the trees and the contours of the hill, with no indication of the surface texture of the hill. I knew that I wanted the surface of the ground to be sympathetic to the trees, preferably to the extent of having an almost symbiotic connection. With this notion in mind, a mental image was triggered of a hill that was completely ploughed. I put onto the drawing lines to show the furrows that I could picture, then used a style of shading for them which fitted the overall 'atmosphere' of the composition.
As for the sky? I decided I didn't want to reduce the impact of the trees by applying the tone behind them, so left the sky empty as a contrast."